Equipment Finance industry veteran and best-selling author Sudhir Amembal joins the Rinaldi Advisory Services team
---
HOUSTON, TEXAS — Rinaldi Advisory Services, RAS, is bringing in the CEO of Amembal & Halladay to beef up its growth-minded training and lease education program for emerging industry leaders and their teams.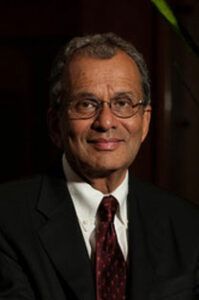 Sudhir Amembal has been the industry's thought leader and honoree for decades. The ELFA Hall of Fame induction and The Monitor 2023 Converge Nominations are highlights of his industry honors. Amembal has been providing leadership and education to the industry since the 1980s. His firm has trained over 50,000 leasing professionals in the US equipment finance market during his career before continuing his work overseas.
"I've had the pleasure of watching industry professionals from their early career through retirement. I'm honored to be a part of the education and guidance that has contributed to the growth and success of the industry", comments Amembal.
Not only has Amembal seen world-renown success in the industry through training and coaching, but he has co-authored, authored, and published 18 industry publications, which include two best-selling books, "The Handbook of Equipment Leasing" and "Winning with Leasing!".
Bob Rinaldi, CEO of RAS, couldn't be more excited to start the next chapter of RAS' industry vision with Amembal. "Sudhir has been a longtime friend and international colleague of mine. I've always admired his deep understanding of the industry and his energy for helping other professionals see growth both in their roles and for the company. He will be a fantastic addition to our advisory team, bringing both core equipment finance and leasing expertise and his global view on new and emerging technologies, which will benefit our clients and industry."
"I'm delighted to work with Bob and the team and to start the next phase of this journey with a longtime industry expert and friend whom I admire. His unique viewpoints derived from years of hands-on and educational experience have helped craft a vision and focus for the industry that I am excited to add to," adds Amembal.
---
About Rinaldi Advisory Services
RAS provides advisory services to independent lessors, financial institutions, industry service providers, OEMs, and equipment dealers. Primary advisory services include strategic planning for growth, enterprise value optimization, exit strategy for independents and dealers, and confidential advisory services to principals/executives of equipment finance companies and regulated financial institutions wanting to enter the equipment finance industry.
About Amembal & Halladay
Amembal & Halladay is the world's most respected training, publications, and consultancy firm in the equipment finance industry. Founded in 1978, the firm has trained over 80,000 professionals in over 80 countries, provided consultancy services to a myriad of firms, and authored 18 industry publications.